Irene Radford, Author
Irene has been writing stories ever since she figured out what a pencil was for. Combining a love for Medieval history and a fascination with paranormal, Irene concentrated on fantasy writing.

In her spare time, Irene enjoys lacemaking and is a long time member of an international guild. Check out THE LONELIEST MAGICIAN, The Dragon Nimbus #3 for an exploration of her favorite obsession. A piece of magic lace is the obvious patch for a dragon wing. She has published numerous magazine articles about the history and technique of lacemaking as well as self publishing two lacemaker's fairy tales with lace patterns that can be made up to illustrate the stories. When she isn't writing or making lace she enjoys exploring the back roads and many museums of the Pacific Northwest.

For many years Irene was active in Ballet du Lac, a semi-pro ballet company. She taught ballet to youngsters in her local community school program. At the same time she led a Cub Scout pack and frequently found her home the preferred playground in the neighborhood for many more children than she thought possible.

Irene has held many full and part time jobs from Insurance underwriter to assistant curator of a museum to clerk in a fabric store. Writing is now her "day job."

Two years ago, Irene took up fencing as research for GUARDIAN OF THE FREEDOM, Merlin's Descendants #5. She figured one quarter would give her some vocabulary and a feel for a weapon in her hand. But that wasn't enough to write realistic battles on the Ottoman frontier or convincing duels. So she signed up for another quarter. And another. Now she's addicted and needs to add fencing to more of her books and let her subjects range further afield.

A native Oregonian living in Oregon, Irene is a member of an endangered species. As a service brat, she lived in a number of cities throughout the country until returning to Oregon in time to graduate from Tigard High School. She earned a B.A. in history from Lewis and Clark College, where she met her husband, Tim. Historical research has remained a lifelong passion and finally became a part of her job with the historical fantasy series Merlin's Descendants.

Irene and her husband currently make their home in Welches, Oregon where they share their back yard with deer, coyotes, bear (check the pictures), raccoons and too many bird species to mention.

Perhaps her greatest joy was the birth of her grandson Bradly Izumi Karr.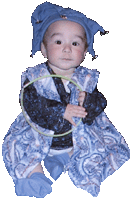 I'm not a proud grandma or anything, but if you'd like to see how Bradley is doing, you can find pictures of him here and here and here and here and here and here and here and here and here and here.
Photo of Ben and Brad waiting for the masquerade at Baycon, May 2004. Brad won Honorable Mention for Most Ferocious.

Brad in traditional kimono Bradley's mother tells me that is customary in Japan when a child turns five they have these formal portraits done in traditional dress as a kind of announcement to the world that he has graduated from baby to child. Brad was only 4 1/2 the last time they were in Tokyo so they went ahead and had the pictures taken. There are special treats and treasures in the bag and he carries a fan.

Latest Bradley photos: T-ball, Good catch!,Skater, Tough guy ;)




In Memorium
Miriam Elizabeth Bentley Radford
2-14-1915 to 8-27-2004
Survived by 4 children, 3 grandchildren, 2 great granchildren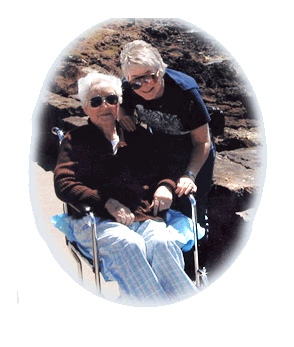 This is the last picture taken of my mother. I'm just glad I had the opportunity to be in it.
My brother Jim and I had taken her to the beach one last time in late June 2003.
We stopped at Depot Bay, Oregon to watch the waves.
She had a wonderful time.